On September 19, the first film of the "Volunteers" trilogy, "The Heroes Attack," released a special episode titled "Original Intentions," which looked back at the filming process and original intentions of the film through a large number of behind-the-scenes production details.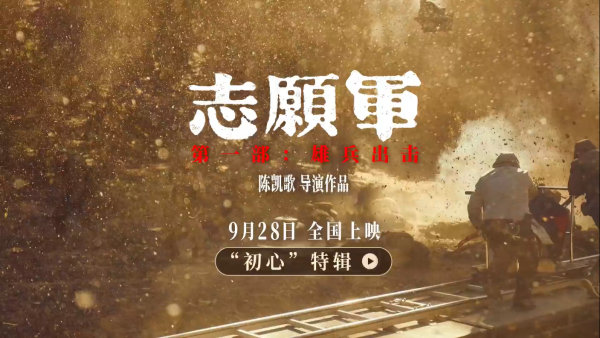 "The Volunteer Army Attacks" Original Intention Special (03:50)
"Look back to your original intention and never forget where you came from." The awe of history and admiration for heroes are the original intention of the film's creation, and also answer the meaning of the film in this era. The film is directed by Chen Kaige and written by Huang Jianxin. It will be released nationwide on September 28. The cast also includes Xin Baiqing, Zhu Yilong, Zhang Zifeng, Chen Feiyu, Zhu Yawen, Xiao Yang, Zhang Youhao, Ou Hao, Wei Chen, Yin Fang, Wei Daxun, Zhang Ziyi, Zhang Songwen, Wang Chuanjun, Lang Yue, Wu Jing, Tang Guoqiang, Liu Jin, Du Chun, Jia Bing, Lin Yongjian, Wang Wufu, Wang Yanhui, Guo Xiaodong, Li Naiwen, Nie Yuan, Haiqing, Huang Xiaoming, Li Guangjie, Guo, Zhang Haiyu, Wang Yang, Wang Xiao, Bao Jianfeng, Han Dongjun, Shi Pengyuan, Liang Jingkang, Li Jiahang, Ren Zhong, Wu Dajing , Zhang Yi, Duan Yihong, Li Xuejian, Wang Zhiwen, Liu Haoran, Du Jiang, etc.