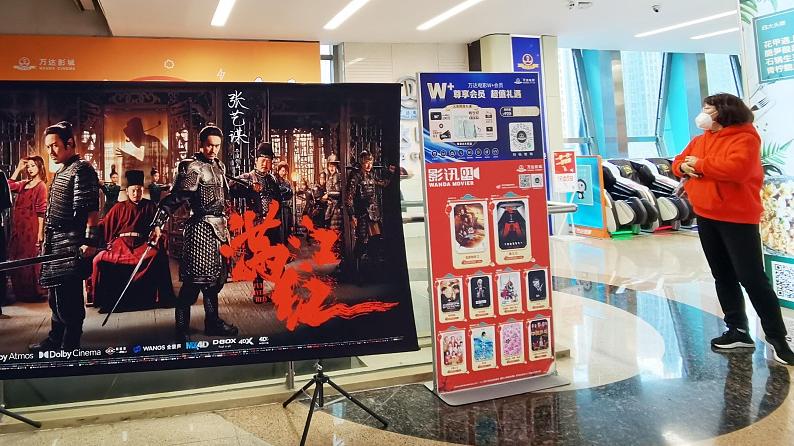 On January 21, 2023, New Year's Eve, Wanda Cinemas in Hexi, Nanjing, posters of Spring Festival movies can be seen everywhere. Visual China Map
According to the real-time data of Lighthouse Professional Edition, at 16:48 on January 22, the total box office (including pre-sale) of the 2023 Spring Festival stalls (January 21-January 27) exceeded 1.5 billion, "Wandering Earth 2", "Man Jianghong" The scheduled box office exceeds 400 million.
According to the Sino-Singapore Jingwei client, judging from the film schedule on the first day of the new year, "The Wandering Earth 2" had 115,000 film screenings on the first day, accounting for 27%; ; "Exchange Life" and "No Name" accounted for 17.4% and 13% of the first-day filming sessions respectively.
According to public information, taking "The Wandering Earth 2" as an example, the production, production, and distribution of the film all include Chinese films, and the joint issuers include Tianjin Maoyan, Shanghai Taopiaopiao, etc. Baba Films, Sunac Future Culture and Entertainment, Wanda Films, Shanghai Huace Films, Douyin Culture, Huayi Brothers, Shanghai Films, Poly Pictures, Emperor Films, Sina Films, Zhujiang Film Group and many other giants in the film and television entertainment industry.
In addition, the main producers of "No Name" include Bona Pictures, Alibaba Pictures, etc.; the producers of "Manjianghong" include Enlight Pictures, China Film, etc.; the main producers of "Exchange Life" are also Ali Pictures, Enlight Pictures, etc. "Deep Sea" is mainly produced by Enlight Pictures, Yancheng October, and Caitiaowu Films; "Bear Infested with Me "Bear Core"" is mainly produced by Huaqiang Fantawild, Hengdian Films, China Film, Wanda Films, etc. , jointly produced by Tianjin Maoyan, Shanghai Huace Films, Douyin Culture, and Perfect World.
Wanlian Securities Research Report stated that the seven films in the Spring Festival file cover suspense, comedy, family, animation, science fiction and other genres, which can meet the needs of moviegoers with different preferences. The echelon stratification of the number of people who want to see is more obvious, and women and young people contribute the main force. The film schedule and pre-sale situation reflect the expectations of theaters and audiences. "The Wandering Earth 2" and "Manjianghong" take the lead in the film schedule, and "No Name" won the box office on the first day of pre-sale. With the word-of-mouth fermenting after its release on the first day of the Lunar New Year, films that are behind in the schedule are expected to counterattack. Based on the fact that the pre-sale box office in the first five days is the highest in the past five years, it is predicted that the overall box office of the Spring Festival stalls is expected to exceed 9 billion.
CICC believes that looking forward to 2023, with the optimization of epidemic prevention and control and the normalization of fixed files, the industry may accelerate the recovery process after a three-year dormant period. It is of important reference significance.