The TV series "County Party Committee Compound" focuses the narrative lens on the developing Guangming County, and tells the story of Mei Xiaoge, who was appointed as the county magistrate of Guangming County and later served as the secretary of the county party committee. Zhi and other colleagues continue to explore and work hard to move forward.
The play ended at the end of last year. On January 13, a symposium on the creation of the TV play "County Party Committee Compound" sponsored by the State Administration of Radio and Television was held in Beijing.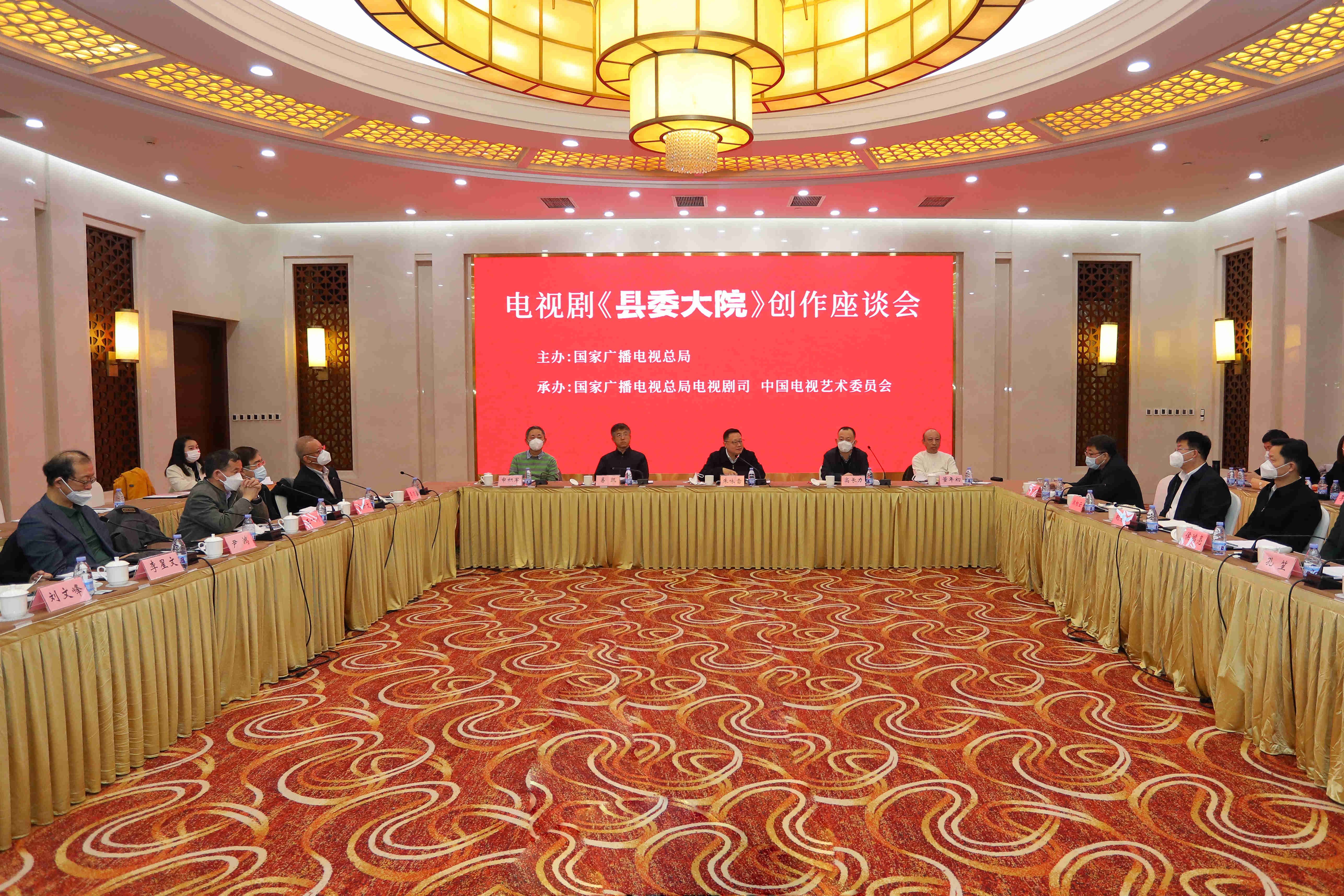 The scene of the symposium on the creation of "County Party Committee Compound"
Gao Changli, director of the TV Drama Department of the State Administration of Radio, Television, introduced the organization and creation of "County Party Committee Courtyard": The "County Party Committee Courtyard" project was launched at the end of January 2021, and it is another major task assigned by the State Administration of Radio, Film and Television to Noon Sunshine. However, this creation is very difficult, and the main creative team does not know much about how the county-level leadership works. Therefore, screenwriter Wang Xiaoqiang and director Mao Junlin went to Dayu County of Jiangxi Province and Hengnan County of Hunan Province to experience life at the grassroots level for several months. Screenwriter Wang Xiaoqiang wrote a record of more than 200,000 words, which laid the foundation for the creation of this play Base.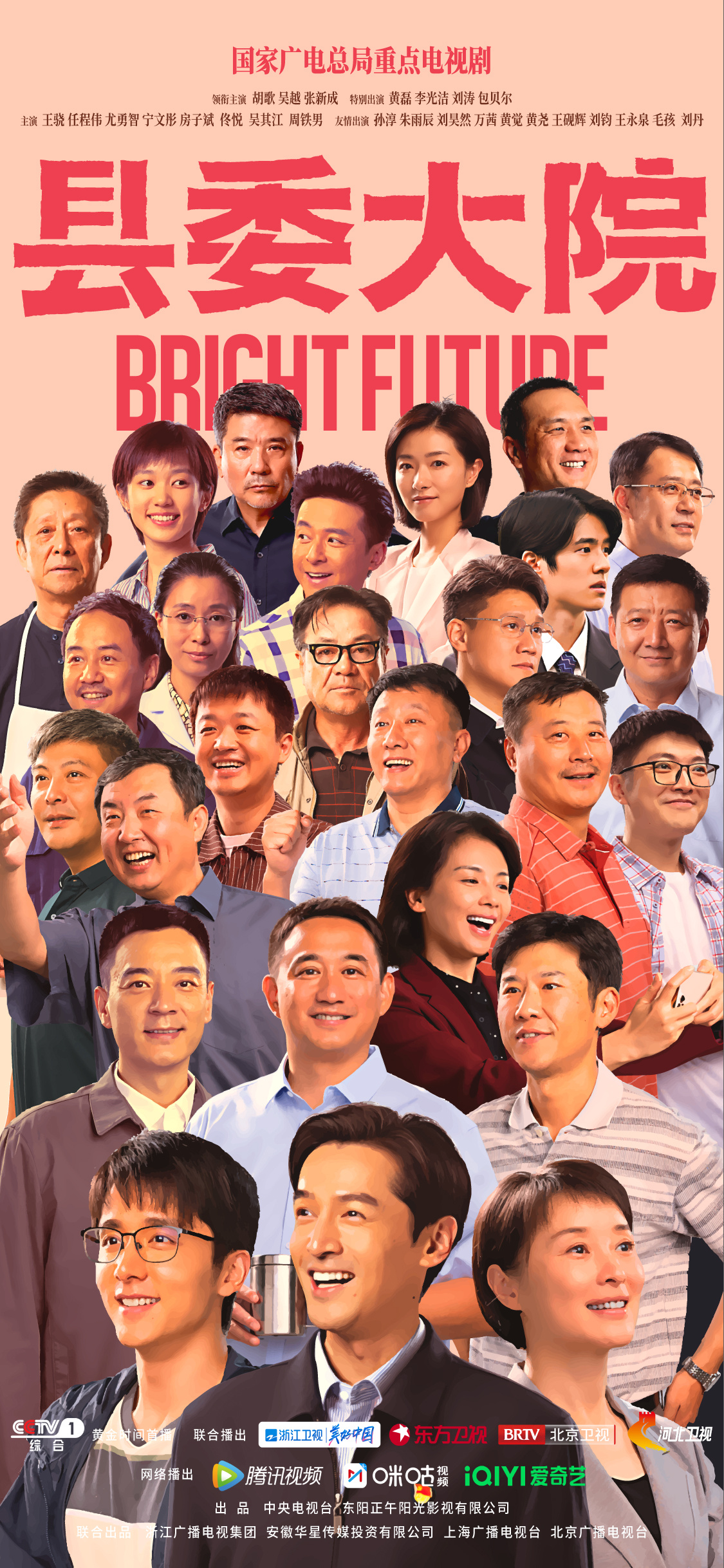 "County Party Committee Compound" poster
"This drama not only makes Hefei, Huainan and other places become places where Internet celebrities check in, but also becomes another characteristic event to promote Anhui's good business environment and the charm of Anhui and Anhui." Zhu Xunyi, a member of the party group and deputy director of the Anhui Radio and Television Bureau, believes that, The topic selection and narrative of "County Party Committee Compound" are very good. There are trivial and ordinary grassroots governance, as well as the fireworks of county life, and it directly faces many difficulties, pain points, and breaking points of grassroots governance such as demolition, relocation of graves, and environmental protection; Reality is highlighted in the portrayal of characters. Through stories such as breaking the hearts of nail households, dealing with "fake cows" public opinion incidents, and prosecuting polluting companies, the county leaders without "golden fingers" and supporting roles with "playful" come to life.
Director Kong Sheng, screenwriter Wang Xiaoqiang, starring Wu Yue and other main creative representatives of the play expounded on their creative experience and understanding.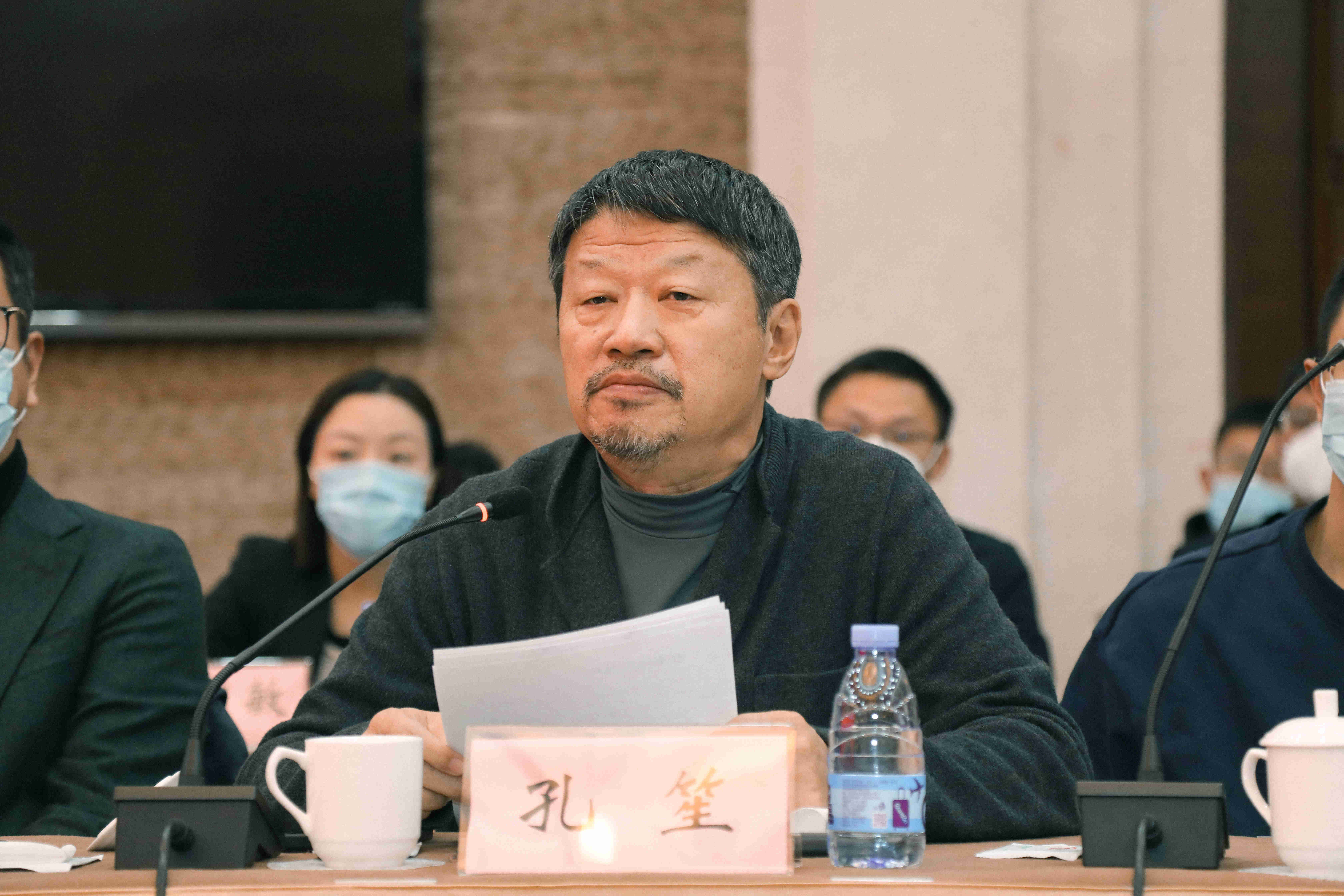 Kong Sheng, director of "County Party Committee Compound"
According to Kong Sheng, there are more than 2,800 county-level administrative units in China, and each county has its own unique geographical location, cultural customs, and economic structure, and will encounter different development dilemmas and practical problems. "It is indeed a difficult problem to use more than 20 episodes to tell the story of the complete county governance structure and to show the work of each grassroots staff," Kong Sheng shared. In "County Party Committee Compound", try to use group portraits To show the group of cadres, use Mei Xiaoge, secretary of the county party committee, as a central figure to connect the specific stories of the county party committee compound. Baoping... Into the village's poverty alleviation work, director Sanbao and the first secretary Xiao Junxue and Lin Zhiwei, the director team strived to establish a character for each story, showing a cross-section of county governance.
Kong Sheng also mentioned that "County Party Committee Compound" is an industry drama about the work and life of grassroots civil servants. It brings together common problems in the work. After moderate artistic processing and artistic processing, it adopts an almost line-drawing method, and the emotional expression is more rational. , the video language is more objective, there is no suspense to pull the plot, and there are no major conflicts.
Wang Xiaoqiang summed up one of his creative methods and experiences, which is empathy, and true feelings are the most precious. He jumps in and out to experience the state of mind of all the people in the play, the secretary, deputy secretary, county magistrate, deputy county magistrate, township head, village director, including the masses, petitioners, relocated, polluted, waiting for employment... Thinking in place and comparing your heart with your heart are key words and a key to creation.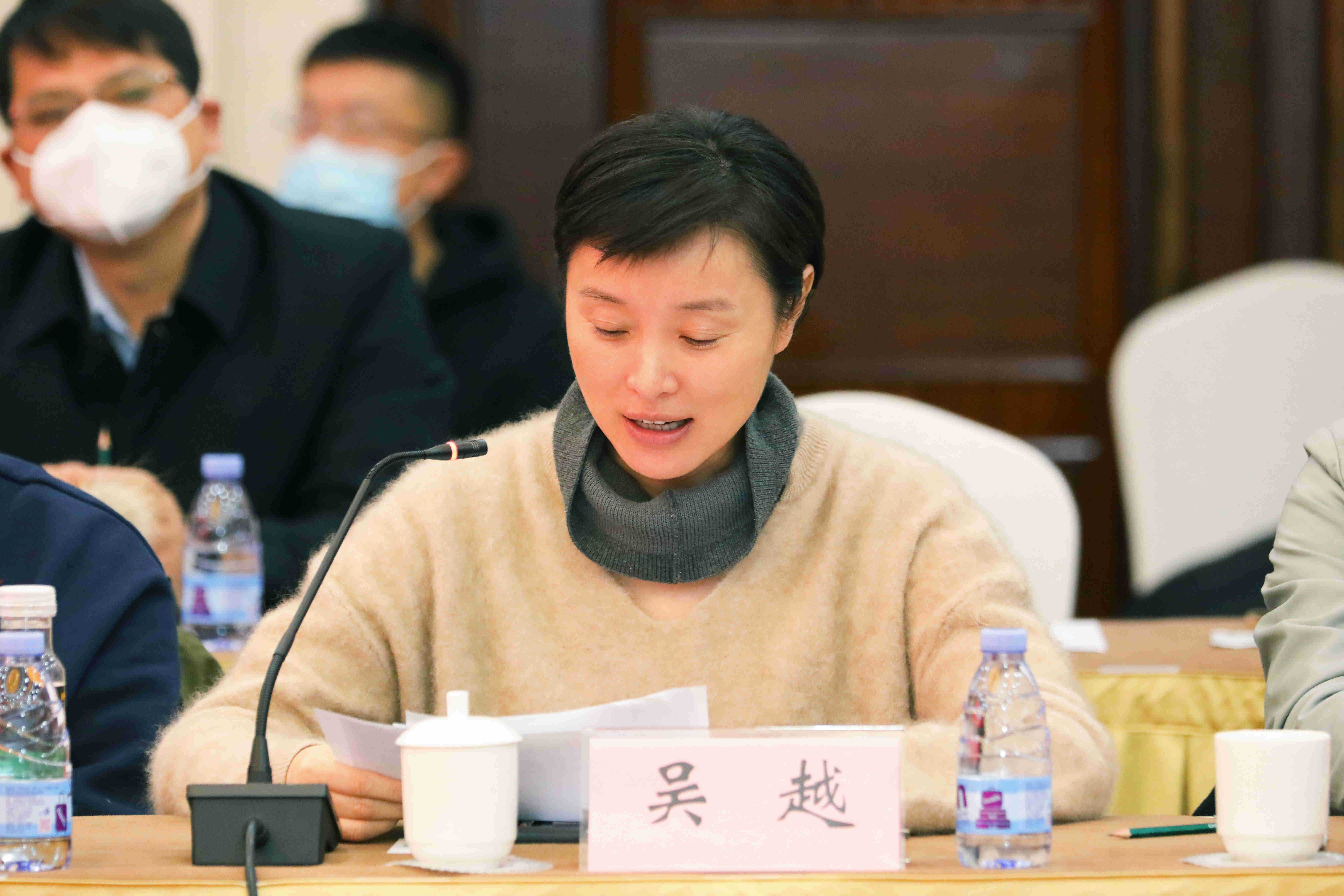 Actor Wu Yue who played Ai Xianzhi in "County Party Committee Compound"
Wu Yue, the actor who played Ai Xianzhi in the play, shared: "The crew arranged for me to go to two districts of Hefei to experience life, to hold various meetings with two female district chiefs, to make letters and visits, and to do inspections. I also collected a lot of news materials about county magistrates, especially female county magistrates. Finally, I came up with an idea—to make Ai Xianzhi present a documentary-like state. For nearly 30 years, I have been used to 'acting', and I want to throw Drop this crutch." With the support of the director, Wu Yue also experienced a different acting experience than before.
Yin Hong, vice chairman of the China Association of Literary Critics and professor of Tsinghua University, Wang Yichuan, vice chairman of the China Association of Literary Critics and professor of the School of Liberal Arts of Beijing Normal University, Li Xingwen, a drama critic, Yuan Xinwen, director of the Literature and Art Department of "People's Daily", China Radio and Television Social Organization United Li Jingsheng, the vice chairman of the association, also conducted discussions on the theme concept, artistic expression, production quality, and practical significance of the play.
Yin Hong said that this drama touches on the most basic, complex and rational governance system in Chinese politics, centering on counties and radiating to towns and villages. "The TV series uses the governance of a county as a case, allowing us to see a more complex China outside of the metropolis, and see the interdependence between the political system and governance system and the masses of the people."
Wang Yichuan believes that the key to grassroots political ecology is to have good officials who are modern gentlemen. From Xianzhi to Lin Zhiwei, this generation of cadres has consciously assumed the political style of benevolence, benevolence and justice, and accommodation.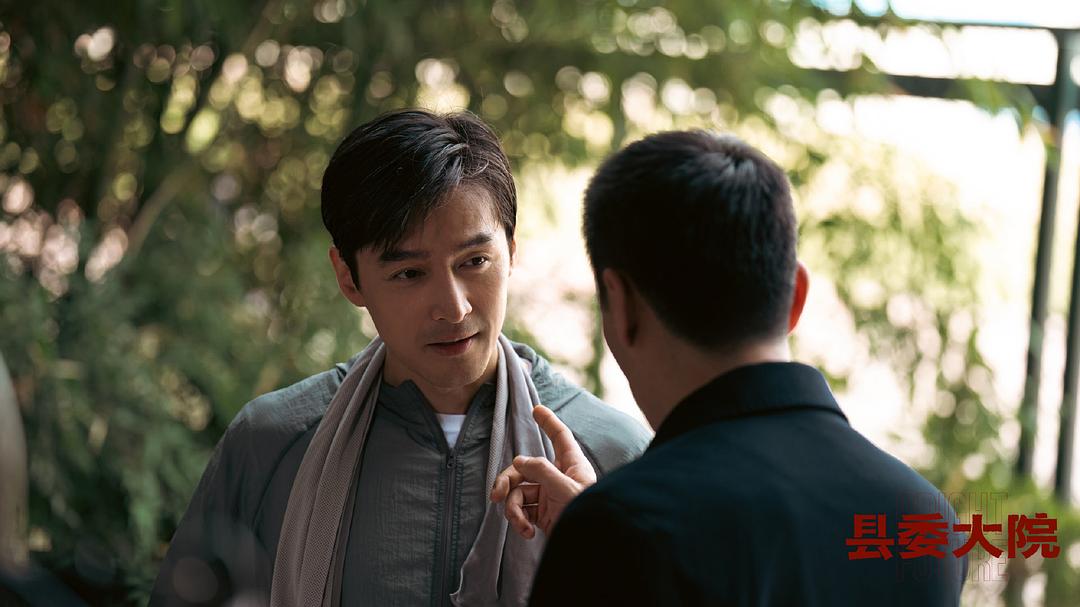 Stills of "County Party Committee Compound"
Li Xingwen interpreted three representative performance methods: the first type is still water and deep, such as Mei Xiaoge, Lin Zhiwei, Lu Qingshan, Cao Lixin; the second type is fierce fire and rapid frying, represented by Ai Xianzhi , which are concentrated in Sanbao, Li Laiyou, Li Baoping, and Qiao Shengli; the third category is light and light, such as Fan Taiping, Ye Changhe, and Yuan Hao. The first type vividly describes a political ecology, the second type accurately describes various contradictions, and the third type expresses a kind of literary interest, adding a lot of color and meaning.
Li Jingsheng pointed out that "County Party Committee Compound" is a political drama. In terms of character creation characteristics, typical characters do not have a halo, which makes the characters in the drama more universal and friendly. In terms of narrative and expression, it does not focus on one case or one field of work, but an all-round expression, allowing the audience to see the entire work content of a grassroots county governance.
It is reported that "County Party Committee Compound" will be broadcast on Shenzhen Satellite TV in the near future, and will be broadcast in multiple rounds in the follow-up, and will be broadcast on mainstream media in Asia, Europe, North America and other countries and regions.