"Southern Expedition and Northern War", "Reconnaissance across the River", "Battle in the Desert", "Red Sun", "Nanchang Uprising"... The century-old director Tang Xiaodan is a well-deserved "father of war movies" in Chinese movies. From becoming a film director in 1933 to his last film "Wild Snow" in 1988, Tang Xiaodan has directed nearly 50 films in his life, witnessing the development of Chinese films for more than 70 years. His works earned him the reputation of "Screen General". He is diligent in art, humble in life, and caring and supporting the younger generation, all of which are deeply loved and respected by his peers and audiences.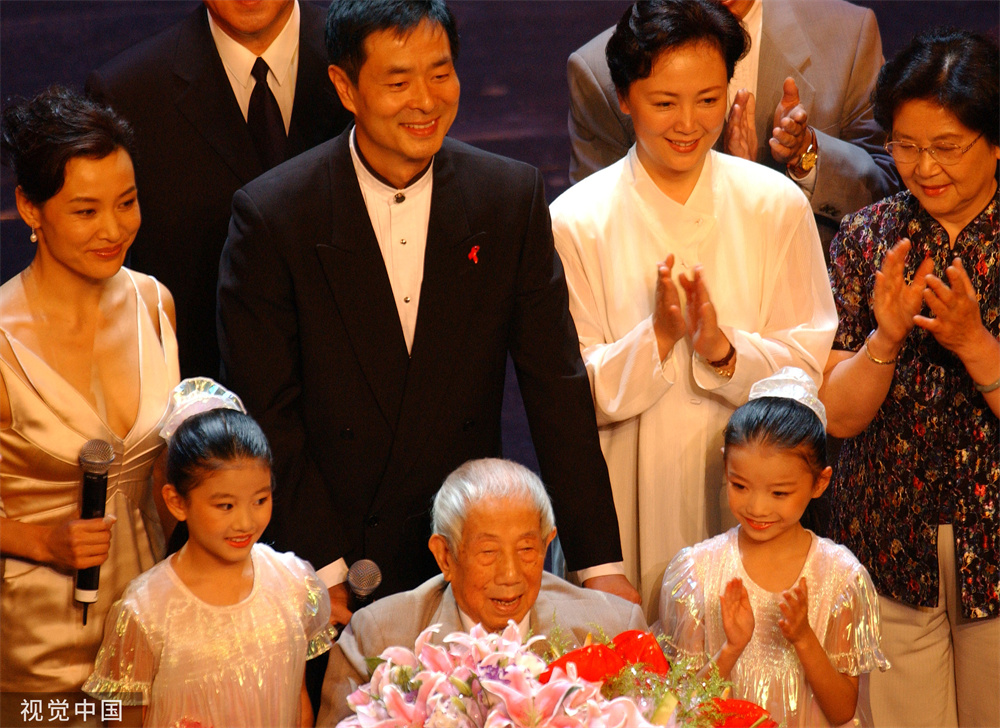 In 2005, the 96-year-old director Tang Xiaodan attended the closing ceremony of the 8th Shanghai International Film Festival. People's Vision Map
This year marks the 10th anniversary of director Tang Xiaodan's death. On November 14th, Xiaodan·Red Sun—a tribute to film artists and commemorating the 10th anniversary of the death of director Tang Xiaodan was held in the Shanghai Art Hall.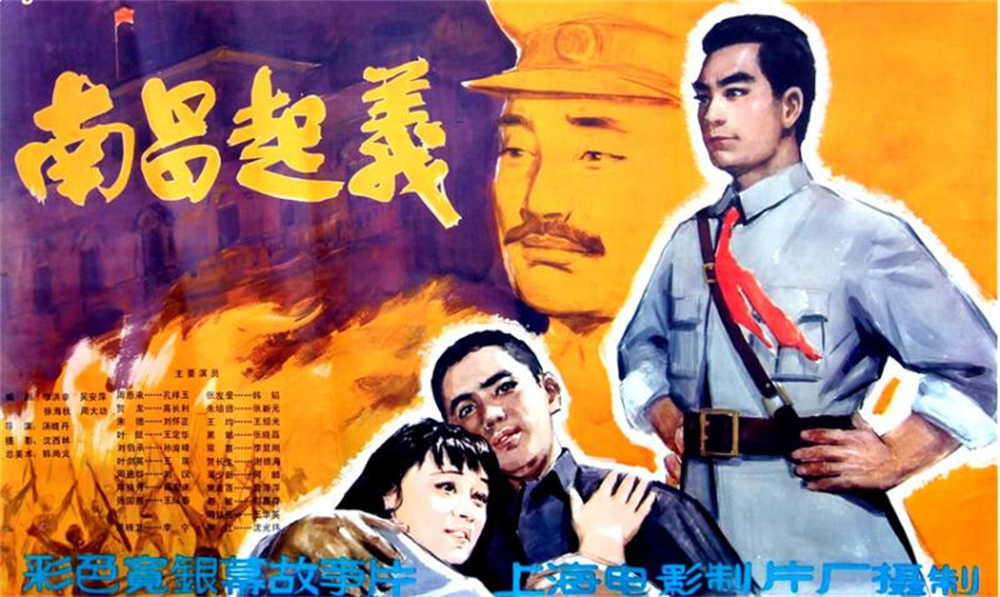 "Nanchang Uprising" (1981) Poster
In the morning, some guests and movie fans revisited the movie "Nanchang Uprising" directed by Tang Xiaodan. In the afternoon, film directors Song Chong, Yu Benzheng, Bao Qicheng, Bao Zhifang, producer Shen Xiyuan, composer Xu Jingxin, actors Sun Yufeng, Zhang Yunli and other guests had in-depth and vivid exchanges on their respective experiences with Director Tang. The famous composer Lu Qiming also sent a video to express his nostalgia for director Tang Xiaodan's film art life.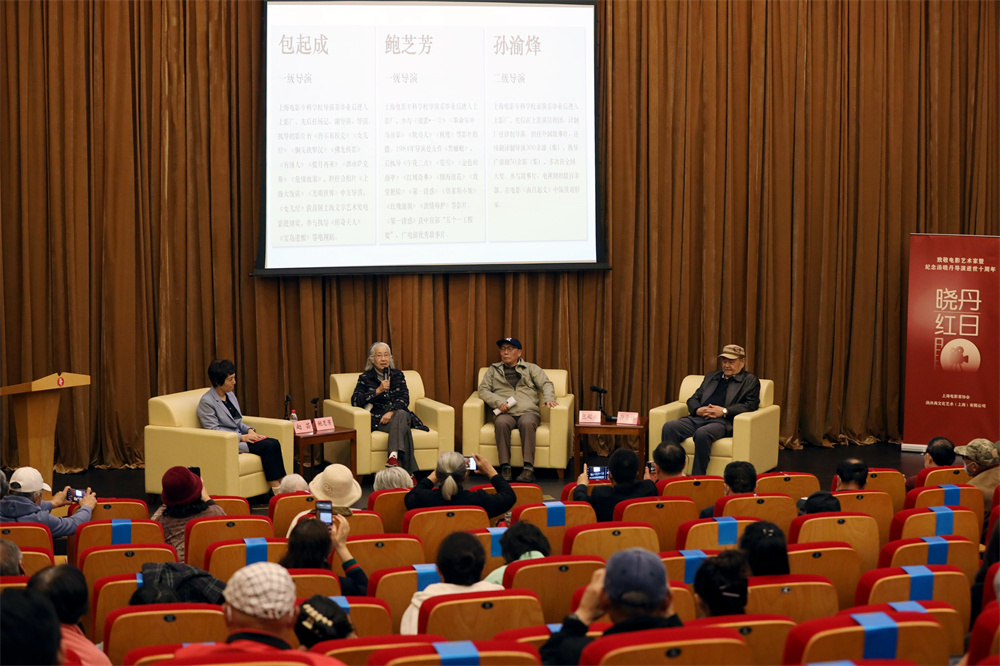 Exchange activity site
Tang Xiaodan liked movies since he was a child. In the 1930s, he worked as a set designer at Tianyi Film Company. He accidentally got a chance to direct a film and shot his debut film "Platinum Dragon". Tang Xiaodan's film creation spanned from the early 1930s to the 1980s, and his works spanned costume films, urban love, war films, biopics, etc. After the founding of New China, Tang Xiaodan joined the Shanghai Film Studio as a director. He once wrote: "Shanghai Film is the cradle of my life. I have lived in the love of Shanghai Film people for most of my life, and most of my films have also been completed in Shanghai Film. In my heart, I always think that I am walking with Shanghai Film. It's the relationship between fish and water, blood relationship."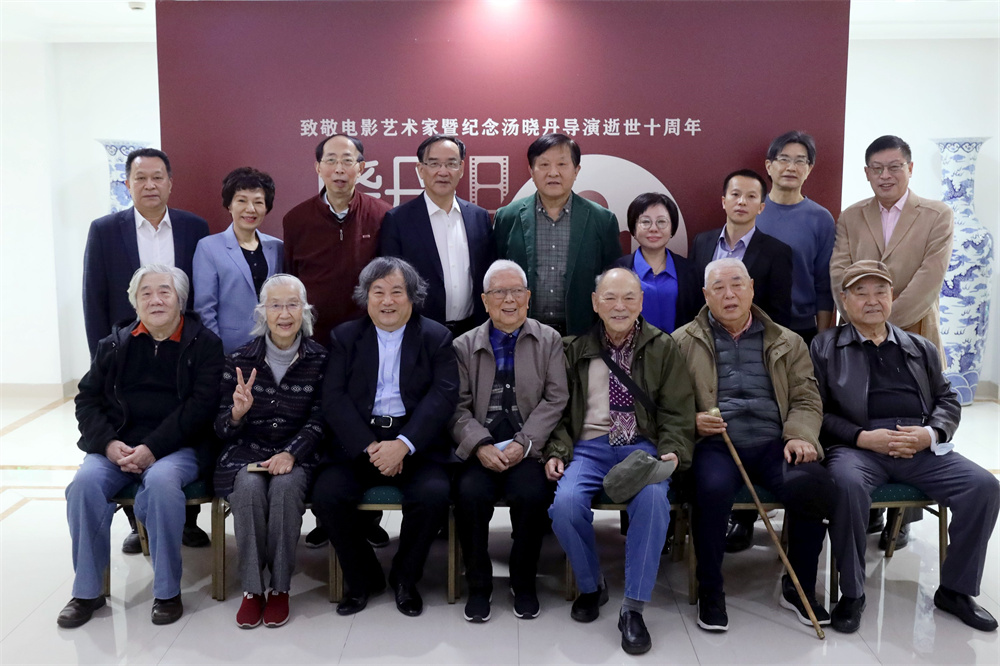 Group photo at commemorative event
As one of the few filmmakers in the history of Chinese film who has maintained creative vitality for a long time, his film achievements not only have historical value but also epitomize most of the history of Chinese film.
Director Tang Xiaodan, who has been away for ten years, is still fresh and hot in the hearts of the younger generations who have been with him. When everyone shares memories about this great director, they can't stop the car almost endlessly, even though the host Repeatedly reminded that "time is limited", everyone still keeps recalling the important past events about him "have to say", and these memories are pieced together, it is a film artist's life full of enthusiasm and love, and it is also the story of the ups and downs of Chinese films. Majestic "first half of life".
The following are the deep and specific memories of film artists for director Tang Xiaodan——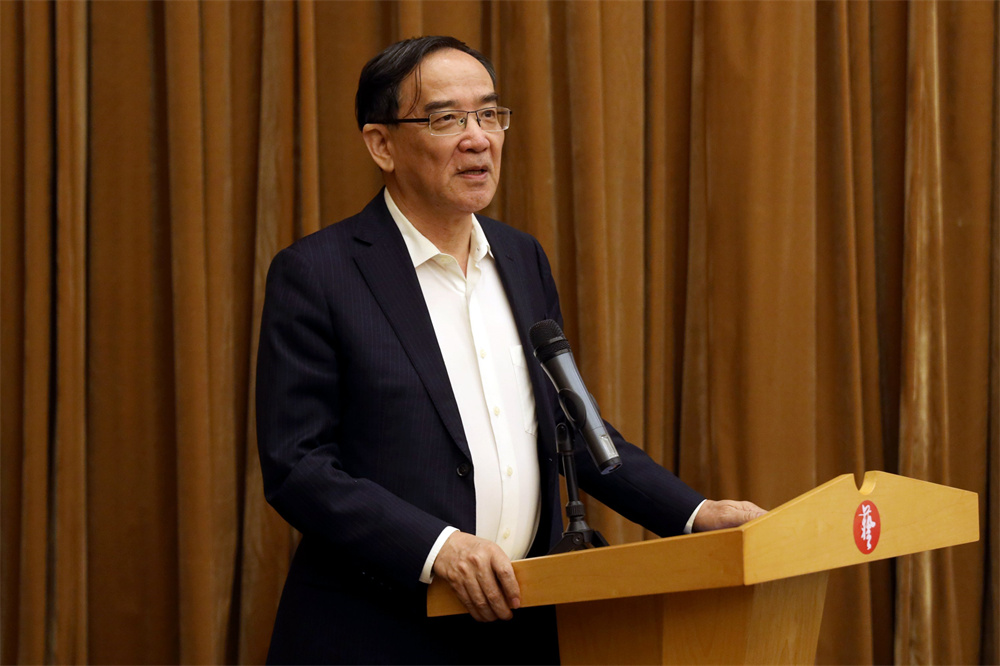 Ren Zhonglun
Ren Zhonglun (Chairman of Shanghai Film Association, Former President of Shanghai Film Group):
A good artist is like a forest, but there are always a few tallest trees and tallest branches. Director Tang Xiaodan is the tallest tree and branch of our Chinese movies.
From 1933 to 1988, he created so many works in his 53 years of creation history. Some works were assigned tasks by the state and superiors, but these creation tasks have become classics. Why? I think that is what many outstanding artists have. Regardless of the ebb and flow, no matter how the situation changes, they always try their best to make movies and shape images according to the laws of art. In film creation, the character image is above all else. An excellent director, the benchmark of art is whether he has created a typical character image.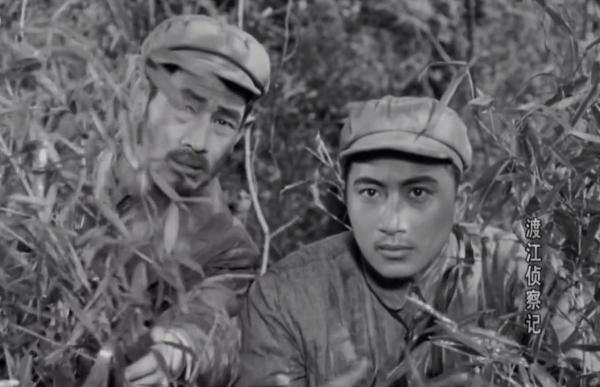 Stills of "Reconnaissance across the River"
I remember one night at Sun Daolin's house, he talked about many experiences in his life. I asked him which image has impressed you the most among the movies you have made so far? He said it was Company Commander Li from "The Reconnaissance of Crossing the River". Based on my viewing experience, I thought it should be Xiao Jianqiu, but he insisted. When Sun Daolin entered the era of the Republic, he felt deeply confused in artistic creation. He even wrote an application for transfer from his job, thinking that he might not be suitable to play workers, peasants and soldiers. It was Director Tang's insistence that after he succeeded in playing Lianchang, he established his determination to continue to be a people's actor. Director Tang Xiaodan not only created his own films, but also created many outstanding artists.
Another time I went to see him, in the sun, he was sitting next to a small stool looking through the English-Chinese dictionary, and he was looking up the word "囧". At that time, "囧囧" came out with a high box office, so he looked up the meaning of "囧" in Chinese and English in a dictionary, and wrote down the translated meaning on paper. It is definitely not easy for him to be successful. In addition to his love for movies, there is also a kind of real tirelessness that makes him shine.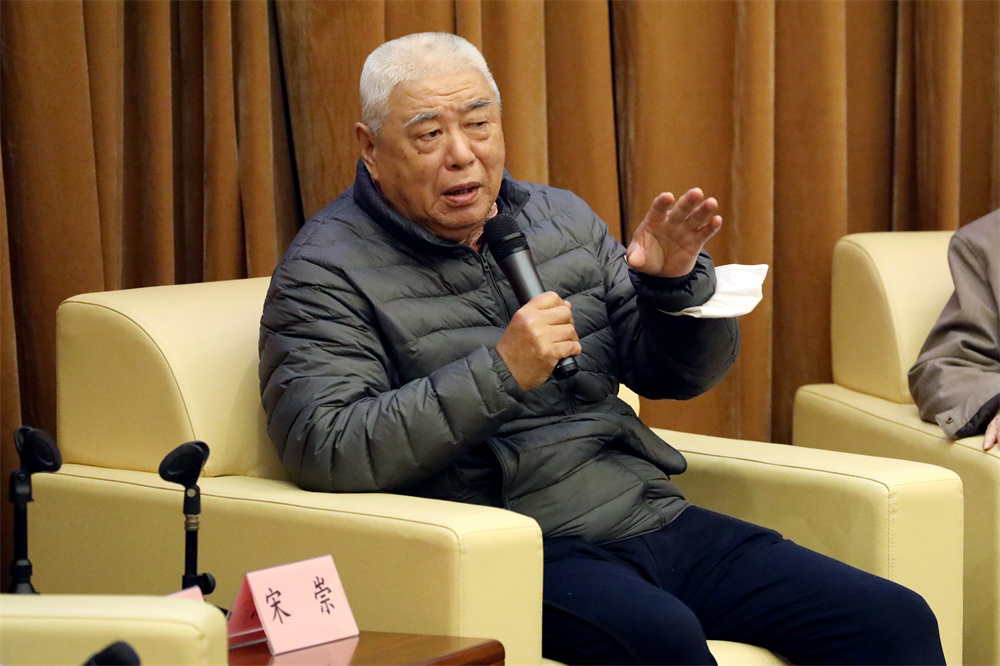 Song Chong
Song Chong (national first-level director, former director of Beijing Film Studio):
Where is my regret? At Shanghai Film Studio, I was not able to film with Tang Lao. I was supposed to cooperate with "Battle of Feishui", but later this film failed to be filmed, so I was transferred away. Tang Lao has always been my teacher, and he taught us lessons in school. Later, I also became a teacher. Every time I talk about war movies, I must talk about Tang Xiaodan.
Everyone says that Tang Xiaodan is a "screen general" and "military film expert", not only because he has made many war films, but also because he has unique expressions in war films. He continues to use realistic creative methods in war films, attaches great importance to life, and learns from wars. He made these "Southern Expeditions and Northern Wars" and "Red Sun". He chatted with military advisers about all the wars and learned about the process of all wars in detail. This is the basic element of his success.
Secondly, he is very unique in shooting. For example, "Red Sun" has four wars. He expresses these four wars as a complete war, and each war only expresses a part of a war. It was the blocking battle in Lianshui, followed by a major retreat, followed by the Laiwu War, and finally the siege of Menglianggu and the elimination of the 74th Division. In this way, each part forms a complete war, the structure is clever, the key points are highlighted, and the characters are well shaped. War is a human behavior and an important means of shaping people. Tang Xiaodan puts a lot of emphasis on shaping characters. Although these works are all assigned by leaders, his artist's unique personality and the artist's backbone are hard. least easy.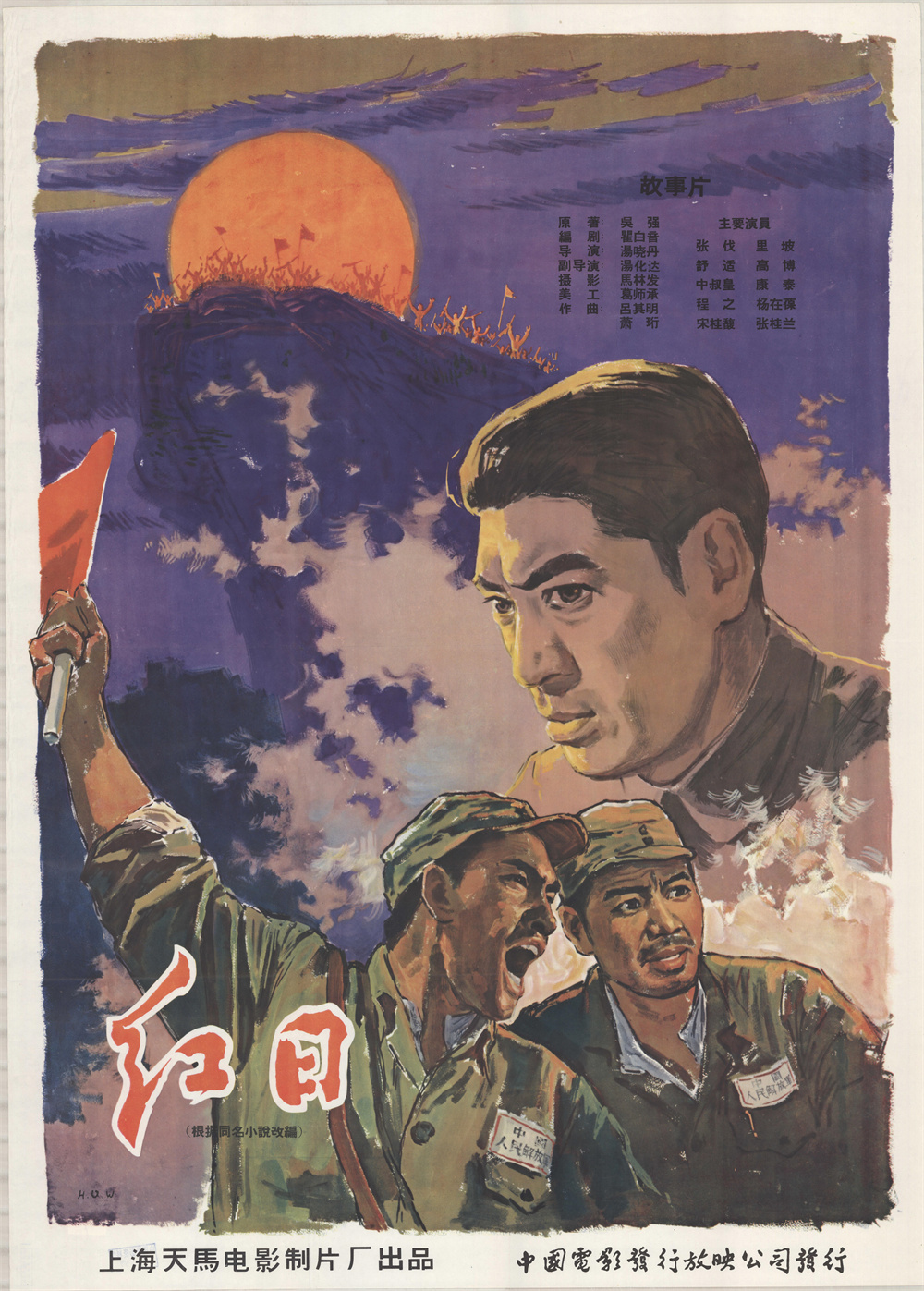 Red Sun (1963) poster
Lu Qiming (famous film music composer, winner of the "July 1 Medal"):
On the tenth anniversary of his death, many events from the past seem to be still in front of us. "Nanchang Uprising" in 1960 was composed by me. During the cooperation process, I deeply felt that Director Tang was knowledgeable, elder-like, approachable, and had strict requirements for music.
In 1962, at the invitation of director Tang, I composed the music for the key film "Red Sun". I remember that after I accepted the task, I spent half a year fully comprehending the director's creative intentions and carefully designing the music. The film has three or four pieces of music to show the grand scenes of the war. At the same time, I suggested to Director Tang whether to add a female solo to express the optimism spirit of the PLA. This idea was recognized and approved by Director Tang, so the three of us went to Jiaodong area to find inspiration. When we are in layers of terraced fields, patches of white clouds, and overlapping mountains, we are touched by the scene, and the song "Who Doesn't Say My Hometown is Good" was created in this way.
But the problem came again. When I sang it to Director Tang and the comrades in the film crew, everyone liked it very much. debate. It was a period of three years of natural disasters. I didn't have enough to eat, and the shooting conditions were extremely difficult. I had to wear winter clothes to shoot in a temperature of more than 30 degrees. After a day, my whole body was soaked. It was really tiring and hard work. Every inch of the film they shot is very precious, but from the point of view of the song, the content of the three-paraphrase is indispensable, so I insist very much that the song should either not be used, or the complete three-paraphrase should be used, and it must not be deleted. reduce. Everyone was arguing red-faced, and our beloved director Tang sat aside and listened to everyone's argument in silence. Until the end, everyone was waiting for Tang Dao's final decision. At this time, Tang Dao said slowly, "It's better to use it." I was very happy when I heard Director Tang's words. These words have kept the song from being passed down to this day. I would like to express my sincere respect and thanks to Director Tang.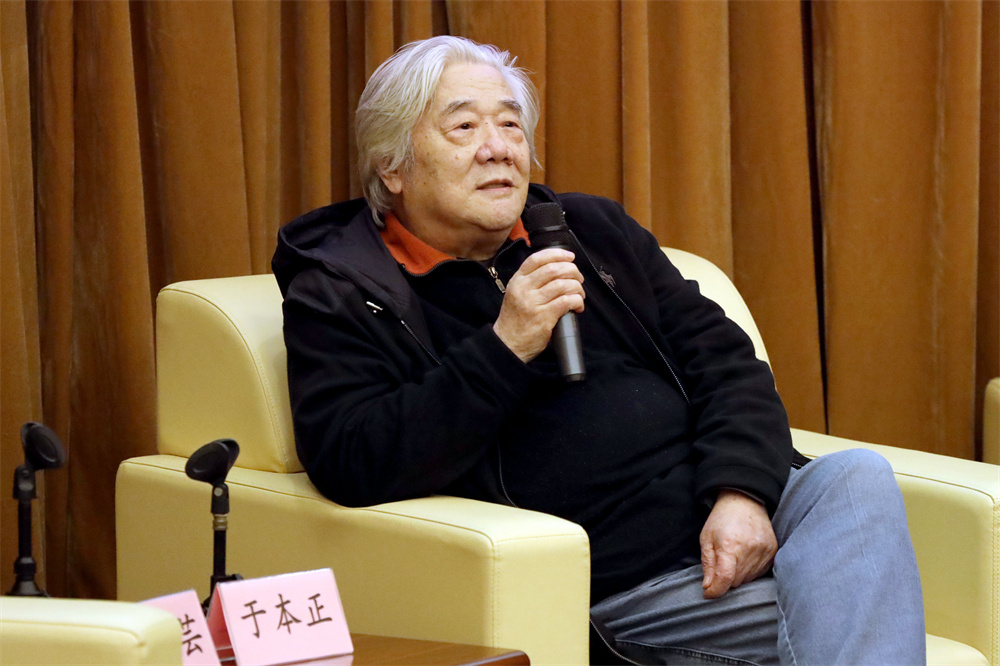 Yu Benzheng
Yu Benzheng (national first-level director, former director of Shanghai Film Studio):
In 1972, I participated in the remake of "The Reconnaissance of Crossing the River". Tang Xiaodan came in as a consultant later. At that time, in order to catch up with the shooting schedule, we were divided into two groups. The first group was led by Tang Huada, Bao Qicheng, etc. to shoot most of the positive characters. Tang Xiaodan and I were divided into group B. Although Tang Xiaodan led our group at this time, most of the work was entrusted to me. So during the creative process, he moved a small stool and sat behind the camera, and didn't talk much. I never heard him Speaking loudly, I ran back and forth, and I was the only one working on the scene. Looking back now, this played a considerable role in our directing career. One day, I heard Tang Xiaodan call me, "Yu Yu, give me that board, and I'll play it for you." He saw that I was too busy, so I said, "No, you sit by the side and play the board. The next day I will play the board." It spread in the factory, and director Tang Da played the board for Yu Benzheng, I can't bear it."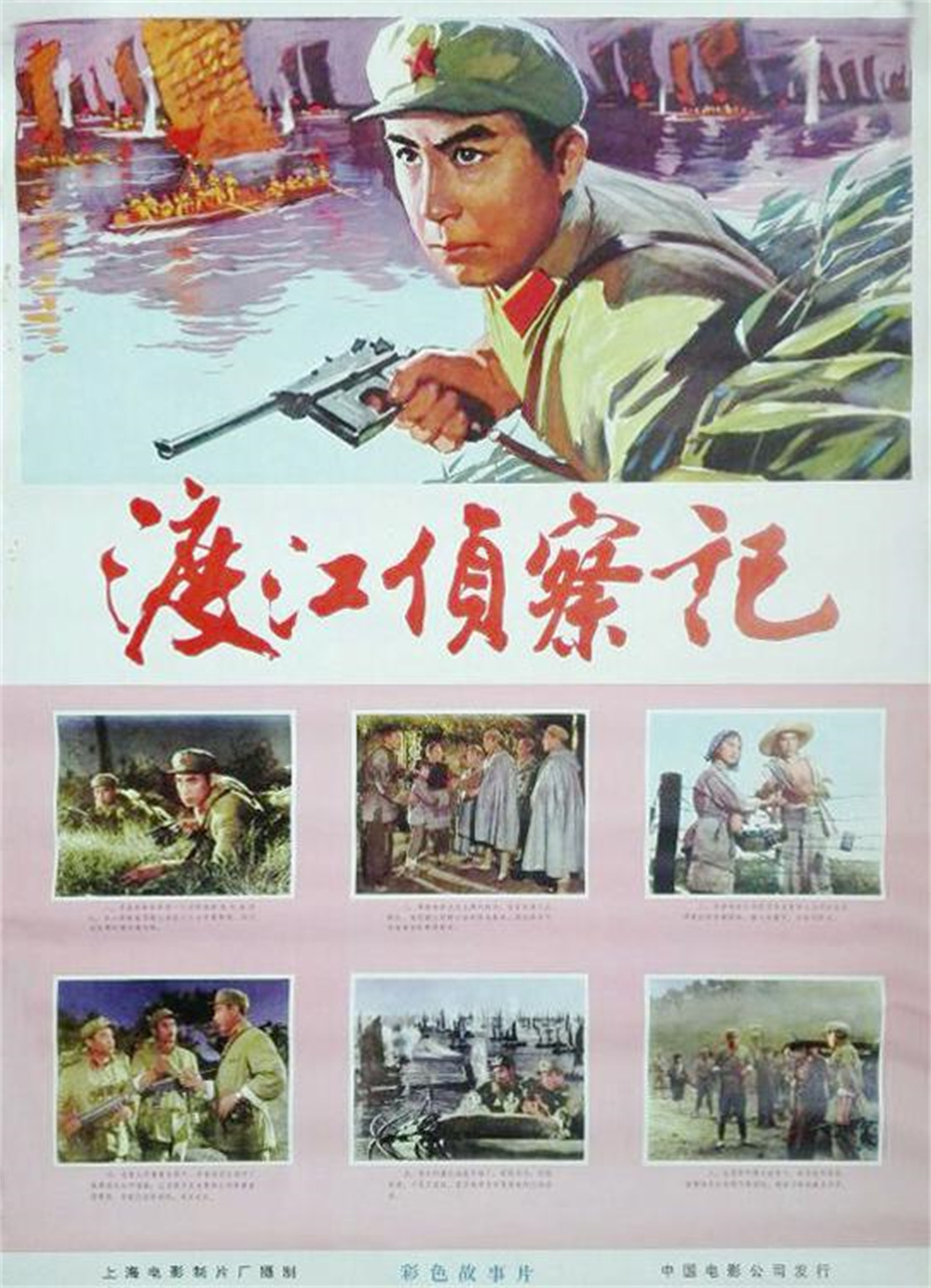 Poster of "The Reconnaissance of Crossing the River" (1975)
"Reconnaissance across the River" was not completely over, so I was transferred out to participate in "Unforgettable Battle". We were still revising the script at the time, but there was a scene that was going to be filmed soon, and if we didn't shoot Lu Wei, it would all be yellow. At this time, Tang Xiaodan said, "Less than you lead a team to take pictures of these scenes first." I was very excited at the time, it was the first time I led a team to shoot as an independent director. I learned later that many people had a lot of opinions on the samples I shot. Tang Xiaodan said, don't talk nonsense, and don't pass any opinions to the film crew. They are under a lot of pressure. Later, I thought, if these opinions from the factory were passed on to the film crew, I would definitely not be able to bear it at the time, because it is the first time to be an independent director, and hearing so many opinions all at once must not be able to bear the pressure.
Therefore, I am very grateful to Director Tang for his care and support. I was lucky to meet director Tang Xiaodan when my directing career started. His persistent spirit of taking movies as his life deeply infected me. He paved a broad, free and equal creative space and environment for the growth of a young director. His tolerance for people and things and the patience needed to achieve his goals have benefited me throughout my life.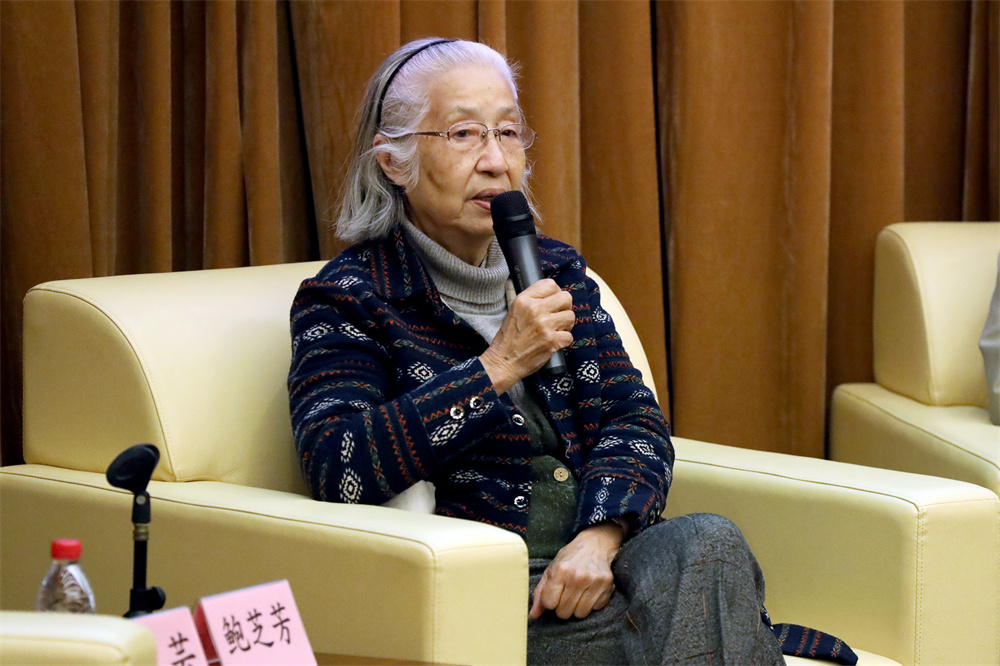 Bao Zhifang
Bao Zhifang (director of Shanghai Film Studio, acting as assistant director of Tang Xiaodan's "Ao Lei Yilan"):
Director Tang and I filmed two films together. The first film was "Ao Lei Yilan". We were in the Northeast at that time, and it was very difficult. I really learned a lot of professional knowledge of filmmaking from him, as well as his quality of life. For my second film "Wild Snow", the leader of the factory came to me and said, I have a task for you. Director Tang proposed that before he retires, he must film with a film crew from beginning to end. He made a wish of his own. He only really retired after filming his entire career with a film crew. Of course I welcome it. Originally, he thought that he was just going to retire and live a happy life as a film crew, but he didn't expect him to be very serious, just like he was filming himself, he would do whatever we did. Once we were going to go to the location after shooting, a production manager said, Director Tang, we have to walk a lot of mountain roads to watch the location this time, so you should not go. Director Tang said blankly, "Oh, I think you don't have to go", and I immediately said to the director, "What are you talking about?". It is such an old director, when he was about to leave the directorship, he was still so serious, and followed us to watch the location. From this old director, I learned how to be a good director and how to make good films for the Chinese film industry.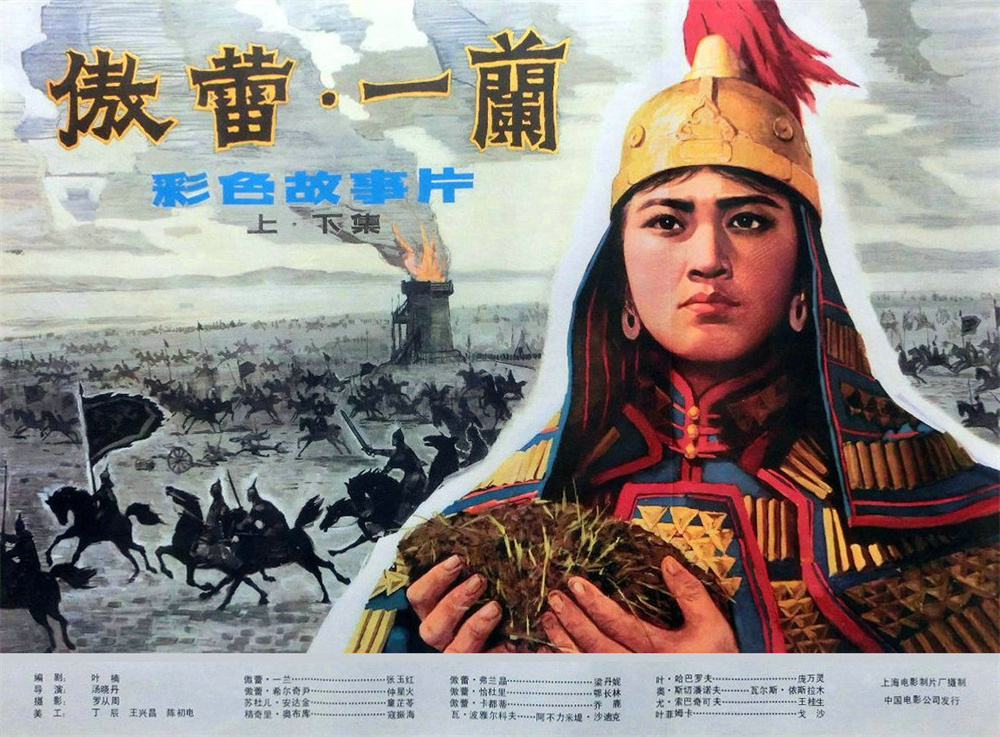 Ao Lei Yilan (1979) Poster
Sun Yufeng (Shanghai Film Actor, Dubbed Film Director):
Director Tang is a person worthy of being capitalized in our film industry. 42 years ago, I was transferred to the translation studio, and the studio informed me to try a shot, and asked me to try Liu Bocheng. I was stupid at the time, so I went to see Director Tang, and I said, "Director Tang, in 1927, Liu Bocheng was still very young, and I was already a little bit bald." As a result, he touched his head and said, "It's very painful to be bald." Normal, when I was young, I also bald very early." When I looked at it today, there was no hair at all, and his hair was very thick at that time. When I went to see Director Tang again, I saluted him, and he said, "Like, he's quite handsome", and then gave me the script, "Liu Bocheng doesn't have many plays, but he is a key character. Go back and read the script." The script was very thick. When you get in touch with director Tang, if director Tang thinks you can do it, he will first give you confidence as an actor, which is very important.
In 2009, I watched a movie in the cinema, and I always felt that something was wrong. Later, I wrote a thousand-character article in the "Liberation Daily", talking about the pros and cons of celebrities. Director Tang was already living in East China Hospital at that time, and after reading my article, he told Teacher Lan Weijie (Tang Xiaodan's wife), "Xiao Sun is right." Director Tang has been concerned about Chinese films all his life.
Bao Qicheng (director of Shanghai Film Studio):
When director Tang asked Sun Daolin to play "The Reconnaissance of Crossing the River", there was a lot of opposition in the group, thinking that Sun Daolin could play an intellectual, but not a company commander. The director of the factory at the time said in front of Tang Xiaodan, "You have to be responsible for this film, use Sun Daolin, you have to use it, you can, you have to make a promise, if you fail or fail, you have to bear all the responsibilities." Tang Xiaodan wrote at the time I signed the letter of commitment, "I would like to choose Sun Daolin to play the role of Company Commander Li. I don't regret it, and I take all the responsibilities." Why can director Tang think so? He was familiar with Sun Daolin, so he dared to do this.
In addition to making films by himself, Lao Tang also trained a group of young people. Wang Yan, the assistant director of "Southern Expedition and Northern War", followed him to do a lot of work. Later, he filmed "Youth in the Flames of War". Bao Zhifang and I both worked as assistant director assistants to Director Tang, and we all grew up under his training.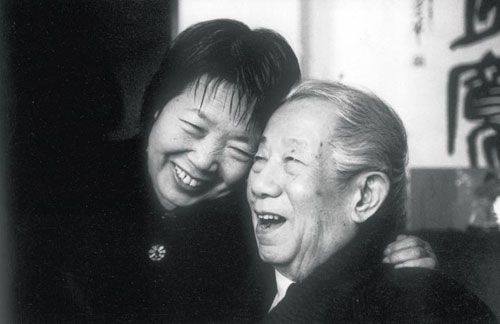 Tang Xiaodan and his wife Lan Weijie. Data map
Lao Tang's life is not only an important chapter in Shanghai Film Studio, but also an important chapter in Chinese films. He usually doesn't talk much about it, but in his diary, he more or less reveals his feelings and regrets. I remember Lan Weijie once told me that when Lao Tang was dying, he only said two words: "No, do it again" and "Okay, it's over". These are the words spoken repeatedly on the set of the film, and he dedicated his life to the film industry.
Xu Pengle (former vice president of Shanghai Film Group, vice chairman of Shanghai Film Association):
He is a good man, a capable man, and a strong man. He is full of emotions, but his ideals and beliefs are firm. He is very low-key and easy-going, just like the uncle next door, and he has never lost his temper.
Someone once told him that the movies you make are all entrusted to you by the leaders, and you are the "queen director". He smiled slightly, "It's better to use it than not." He has a firm and persistent pursuit of art. The reason why he can become a "screen general" is that he used his artistic talent to pave the way.